***This post contains affiliate links and I will be compensated if you make a purchase after clicking on my links.
I've been wanting to write this blog post for awhile and talk about some of my favorite kid shops. It's hard to grab photos when these are literally our favorite pieces of clothing to wear! Ha! So when the laundry was freshly done, I took the opportunity to photograph some of our favorite items. All of these brands work year round, but I wanted to include some obvious colder month accessories too.
Let's start with two places where you can buy and sell secondhand!
Kidizen
All the shops I am going to list are available on Kidizen. Kidizen is great for buying and selling children's clothing and accessories. They recently also added a Mama section. It's a great way to find sold out styles, sizes, and great for the environment. When my daughter was born and I discovered June & January, they didn't have any smaller sizes. I went on Kidizen and bought her an adorable avocado green dress in 0-3 months, I loved it so much that I continued to search for styles in her size! I went on to resell that same Avocado dress on Kidizen later. I highly recommend Kidizen! I do have my own Kidizen shop! I add things here and there! Check it out https://shop.kidizen.com/users/twiceoctober
Poshmark
Poshmark has been around for awhile, and I honestly had never thought to give it a chance. But after using Kidizen, I wanted to see if there was something out there, just as easy to buy & sell, as Kidizen but for adults. I have found some amazing things for myself, haha. But this has actually been a great place for me to sell grown out kid clothes too! There is a lot of children clothing and accoesries on here, so don't count them out for that! I do have a postmark closet, but I don't always have things up. It's really easy to add clothes to your closet, and maybe a little too easy to shop. 😉 For a limited time, use my code TWICEOCTOBER to save $10: https://posh.mk/wU5TOYbJYX
June & January
My first must have small shop is June & January. When my daughter was three months old I entered an Instagram giveaway with Nugget couches and June & January. I started following them, not knowing too much about them. They ended up having a huge sale, and I decided to buy my daughter a few things. As I mentioned before they didn't have too much in her size, but they did have tights! I was so excited because I love baby tights. I don't know why, ha! So to match her cute Christmas dress, I bought a pair of Rust tights.
This was the beginning of a beautiful friendship, haha. Their clothing is fun, bright, affordable, and easy to wear! I have sized up on most things, to get longer wear, and she has been wearing her 12/18 month dresses since about 6 months (she is now 9 months.) They have peplum tops, shirts, dresses, skirts, rompers, shorts, pants, swim, shoes… and so much more! (and for things that are sold out, check Kidizen!) My 2 year old son loves their t-shirts and I find those fit true to size. I hang dry my clothes from them, but they have held up well! Especially since I have gotten quite a few things secondhand from Kidizen. I love checking Kidizen for June & January, and the best part? You can earn points on Kidizen for June & January!

I love their points system, and I have saved a lot of money collecting points! (It's 5 points per $1 spent.) 1,000 points = $10 off — 2,500 = 25% off $100 or more (non-sale) — 10,000 = $200 Gift Card. I love saving money, it's a great incentive, and it has kept me coming back for more. They have a ton of new things coming this year, and I can't wait! Follow them on Instagram, and join J & J Perks to keep up to date. Click here to check out June & January!
Remie Girl
Remie Girl is an adorable brand that I actually found through Kidizen! I found a dress I loved, and it was one of my first Kidizen purchases. It was a bit of a risk because it was a 12 month size, but I was pleasantly surprised when I received it in the mail. I recently put it on her, and I am over the moon! It is soft, and the bodice fits so well. They have a lot of different dress styles, but also leotards! The style I have had my eye on is the Minnie Collection. Red polkadots? Tiny dresses and leotards? Can I get an "AWWWW". I am excited to shop with Remie Girl again. They are higher on the cost end, but because they are so well made reselling would be a snap! Check them out on Instagram and at https://remiegirl.com.
Primary
Primary.com is my favorite place for Kids pajamas. They have so many fun colors, and their quality is amazing. They have footie pajamas, footless pajamas, and two pieces in baby and kid. I have personally had footie and two piece! I really love how comfy they feel, and how easy put on. They have so many color options, and a great size range! Besides pajamas Primary has a wide variety of clothing.
Without logos, or text, the clothes are great for mixing and matching! I love seeing all the creative Halloween ideas on Instagram. (It's NEVER to early to mention Halloween! 😂) Last year we bought their rash guard and swim diaper and both have held up so well. They will be hand me downs for my youngest! My nieces have had everything from sweatshirts to dresses, and my sister loves the brand, eventually my youngest will get their hand me downs too.
One key piece of advice, check the size chart. I size UP in most of the items I buy. Both my kids are average on the charts, and I find they fall better into a size up. Right now they have a summer sale going while they move warehouses! Click here to save big on best selling summer styles for baby & kids! First time customers get get 20% off their first order at Primary.com with code AFF20PCT!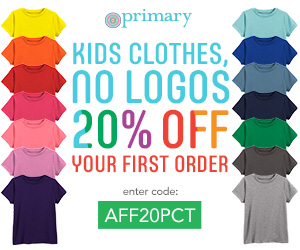 BunnyKnots
When I first encountered BunnyKnots I thought they were cute, but I wasn't sure how practical they would be. I love the idea of bows, but when your baby has fine hair, you have to find alternatives. (My second is my first girl, so all the bow styles were new to me.) They are so easy to put on, they stay on, and they look adorable in the process. The version I have the most of is their RAGA style, the other style is the KNOT. I love putting them on for when a store might be a little chilly, as my daughter doesn't tolerate hats for long periods of time. During the summer it has been nice for sunny days to avoid sun burn. They do make swim Bunnies but I have yet to be able to snag one.
They have a whole community around these Bunnies, which is so fun! I love when the owner pops up on Instagram, and shares about their journey. I think these are well worth the investment. I have mainly size small, which is 6-12 months but I do have one that is 0-6 months. My daughter (9 months) has a larger than average head, and she can still fit in the 0-6 month Bunny. For me this is practical, and that means she'll be able to wear these for a long time! Visit them on Instagram and at https://bunnyknots.co.
Bonus shops for fall and winter accessories
The Wishing Elephant
If you haven't heard of the Wishing Elephant, minimize this window, go to their website, and browse. I love their designs. Their tagline is "Where cozy meets cute" and they are spot on. I was fortunate enough to order two of their more popular styles, the "Fries Before Guys" sweatshirt and "the Good Dudes club" jacket. Their shipping is quick even with the jacket being CUSTOMIZED! What?! I was so happy to rip open these packages, and I am beyond impressed with the quality. Visit them on Instagram and at https://thewishingelephant.com.
June & January
But wait, there's more! 😂 I mentioned earlier that I love June & January's tights, and this remains true! They are comfy, warm, and come in coordinating colors to their entire line. I have gotten these second hand (from Kidizen) and new. They have coordinating socks as well, and they are knee highs! Squeeeee!
Another favorite is June & January's cardigans. My daughter wore hers nearly everyday from the day I received hers. Easy to use buttons and an adorable fit! Some caregivers like to size up, for a more relaxed fit. I have had three colors; raspberry, teal, and poppy stripe. Poppy stripe is 12/18 month size and she will definitely be rocking it during the winter!
Lastly June & January has a hooded jumper. I received my daughter's in a surprise bundle. I didn't know how much I would love it! So cute, and versatile. These are great for little ones, and I usually put a onesie underneath. She could even wear it to bed! This is a great item to find on Kidizen when it is sold out.
I hope you found this entry insightful and my list of favorite kid shops helpful! We love all of these brands so much, and I wanted to share! Likely as my little ones grow, so will my list! All these brands are small to medium shops, which I find important to support. Plus, they usually have some amazing backstories! Happy Hunting~!
Whitnee